Lifts for Goods and Freight from Southwell Engineering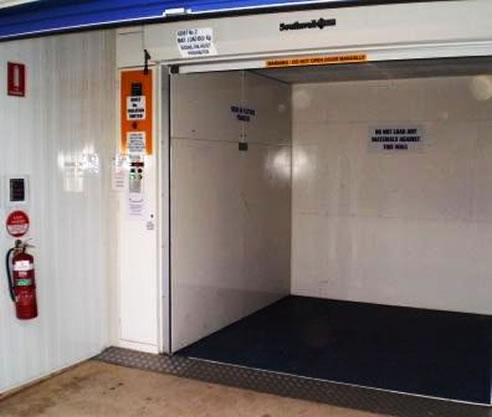 Storage King, Newcombe, Victoria were so pleased with their first Freestanding Goods Hoist installed in 2008 when their business expanded in 2011, they returned to Southwell Lifts Hoist for their second Freestanding Goods Hoist.
The self supporting freestanding Goods Hoist which has a minimal pit depth was simply bolted into position for ease of installation.
The freestanding Goods Hoist provides an efficient, cost effective and safe method of transporting goods between floors. Plus these Freight Hoists can be designed for personnel to ride with the goods as well!
All Southwell Lifts and Hoist are designed to comply with Australian Standards and OH&S regulations to maximise operator safety
Southwell Lifts and Hoists manufacture and install Goods Hoists/Freight Hoists, Goods Personnel Hoists, Car Hoists/Lifts and Airport Ground Support Equipment throughout Australasia and welcome all enquiries on 1800 244 787 or email sales@southwell.com.au.