Water Dispersion and DUST LOCK™ Technology from Laticrete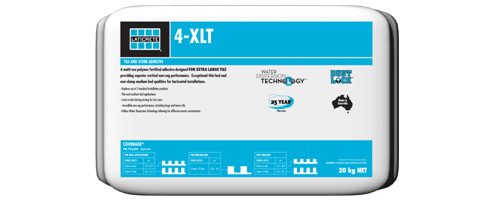 New Water Dispersion and DUST LOCK™ Technology.


LATICRETE® 4-XLT is a multi-use, polymer fortified adhesive built on the new LATICRETE Water Dispersion Technology (WDT) platform. WDT provides for the complete dispersion of water within the mix allowing users to quickly and easily achieve the desired application consistency. LATICRETE 4-XLT offers tremendous utility including non-sag wall installations as well as non slump medium bed build up of up to 19 mm and thin-set applications on floors. In addition LATICRETE 4-XLT features LATICRETE DUST LOCK Technology. This unique way of manufacturing our adhesives dramatically reduces mess both during transportation of the product as well as during mixing. Meets and exceeds the requirements of AS4922.1 as a C1TS1 classification adhesive. Can we interest you in FREE sample bags? Contact us by calling the number below or email us: sales@laticrete.com.au to obtain your FREE sample!