AFL Swans Locker Room Upgrade with Autex Carpet from Nolan.UDA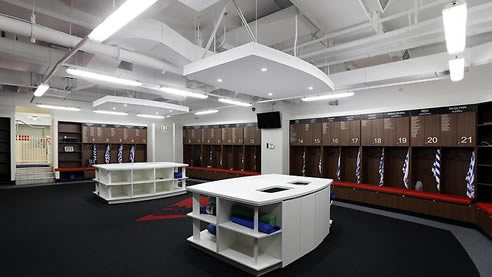 Autex carpet range: For premiership winning performance

The Sydney Swans are the current AFL premiers, and with good reason. The club has a winning culture built on the foundation of resilient performances. To celebrate their status as AFL champions, the club has decided to renovate their locker room. As you can appreciate, there is no tougher environment. Mud, sweat, footy boots and even blood were part of the brief provided by the club. Just to make it more difficult, the final curve ball was the fact that TV cameras frequent the room so it has to look smart and easy to maintain. Talk about defying gravity, but it wasn't impossible. The project Managers were introduced to the Autex range of commercial carpets. Their eyes lit up as they realised they had found the perfect solution. Autex provide a tough, resilient carpet range with a history of proven performance, similar to the DNA of the Swans football team. Good looks are essential but performance is paramount. Contact your local Nolan.UDA branch if you have a similar project that requires a solution.