Stair Design Showcased at Designex from S&A Stairs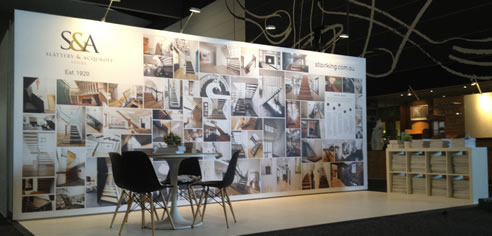 Our goal for the Build & Renovating Expo 2013 was for the S&A brand to gain a greater level of exposure within the design and construction industry. The Build & Renovating Expo is now in its 8th year at the Melbourne Convention Centre.

The Expo showcases everything from flooring, lighting, kitchens, doors, windows and building materials that will inspire future building projects. This year S&A decided to exhibit with the intent on attracting a niche market of home renovators. We decided to replicate our simple yet visually alluring stand that we used at Designex last month. The purpose of this was to attract our target market with our amazing feature wall which showcased the products and services we provide. In excess of 1,800 Stair books were handed out across the 3 days (that's a lot of coffee tables around Melbourne with the S&A name sitting on it!) - It is clear that the S&A name is one that people respect, value and admire. The set up and clean up was stress free with very little disruption to our production and manufacturing teams time, which has not always been the case in the past! Thank-you to the sales team for putting in their time on Friday night, Saturday and Sunday to help the cause.


03 9532 0224
Melbourne: 31-41 Woodlands Drive, Braeside, VIC, 3195
Queensland: 13 Enterprise Street, Molendinar, QLD, 4214