Braille for Schools from Hillmont Braille Signs Sydney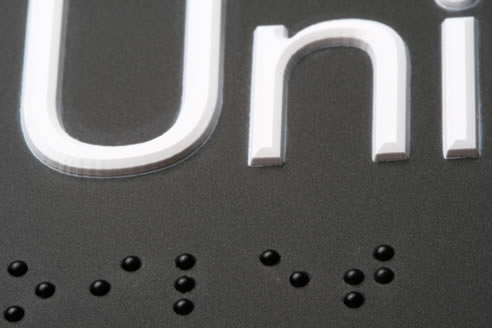 Does Your School or Hospital Comply with Braille regulations?
Over 4 million Australians have a disability. 1 in 3 people either has a disability or is likely to be close to someone who has disability.
2.1 million Australians of working age (15 - 64 years) have a disability. Vision Australia estimates there are currently 357,000 people in Australia who are blind or have low vision. (* source: http://www.and.org.au/pages/disability-statistics.html).
Life is complicated for individuals living with a disability. For some, physical activity is limited. Others have vision and hearing impairments.
Regardless of the disability, navigating a school or hospital should not be one more challenge these individuals have to overcome.
These individuals are your patients, staff members and students. To provide them with the best care and educational experience possible, school and hospitals need to ensure their facilities are compliant with Braille sign regulations.
Schools servicing those with a disability should not be without compliant signs. These signs make sure that occupants, regardless of their disability, can obtain the necessary information to easily navigate a facility.
Hillmont Signs uses Grade 1 U.E.B. (Unified English Braille) which is the current standard for Braille in Australia with all of our designs meeting or exceeding the requirements of D3.6 of the Building Code of Australia and AS1428.1 of the Australian Standards. We are also able to advise you on the compliance of your designs.
Hillmont Signs is one of the most successful and innovative manufacturers of Braille in Australia and have been manufacturing and supplying Braille / tactile and general signage solutions throughout Australia for over 15 years from our Northwest Sydney location (now based at Castle Hill).
High profile projects include the award-winning wayfinding system at the University of Sydney, many of the facilities for the Sydney 2000 Olympics as well as the Epping to Chatswood railway and Braille signs inside the new Oscar railway carriages. We offer a wide selection of Braille and tactile signs for Australian buildings, and can advise on the BCA requirements.
You are most welcome to visit our Castle Hill showroom and factory, email us or phone to discuss your needs (see contact details). Samples can also be provided.
Visit http://www.hillmontbraillesigns.com.au/products/braille.aspx?CatID=1