Cor-ten Steel Sculpture from ARTPark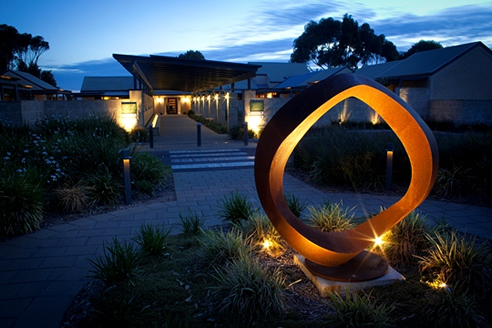 Sculpture makes a clear Statement of style and design...
This bold and demanding piece 'Wavering Circle' by artist GJ is delivered in Cor-ten Steel and uses symmetry coupled with a flawless organic design. Once again symmetry is achieved with the sculpture situated on top a garden hill inline with the front door. Your gaze is directed through the the centre of this piece as you leave the house. This is perfect example of how unique ideas brought together with knowledge and experience can achieve great things.
ARTPark Australia can offer the architect/designer or home owner the opportunity to consider a vast range of sculptural works by living Australian artists.
Encompassing internal smaller scale works to large scale works, suitable for commercial or public placement, ARTPark Australia has a form to suit!
In most cases you can then trial particular works in your home/office, with no obligation, to ensure the right choice (conditions apply).
We have a perennial exhibition program throughout Sydney's CBD offering examples of the artists work in the sumptuous environment of some of the city's finest building Alternatively search the site www.ARTPark.com.au to preview the work before coming in to see it in the flesh.