Bespoke Balustrade Suites from Axiom Group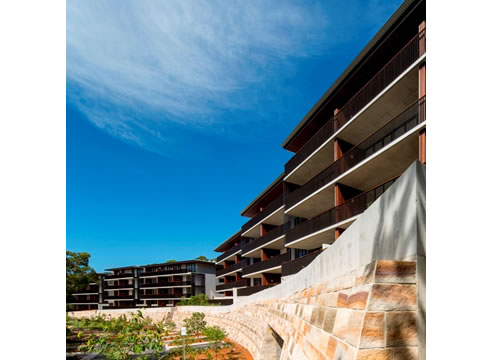 Defence Housing Australia (Lindfield)
Address: 100 Eton Rd, Lindfield NSW
Architect: Bates Smart Architects
Builder: Grindley Constructions
Nestled into historically significant bushland this tree-house style apartment development has dwellings suspended over sandstone cuttings and single story apartments floating within the trees.
Originated to look after the housing needs of Defence members and their families it was important to create a welcoming and comfortable home that was both architecturally appealing and acceptable to the surrounding environment.
After many months of design consultation with the aim to design a development boasting a unique relationship with the bushland context, Axiom Group was able to design a bespoke balustrade suite to help achieve the architects vision.
The baluster creates a striking contrast with the textures of the robust natural materials whilst not obstructing the view but rather transferring the living experience comfortably into the outside environment.