Underslung Tapware G Series Range by Caroma from GWA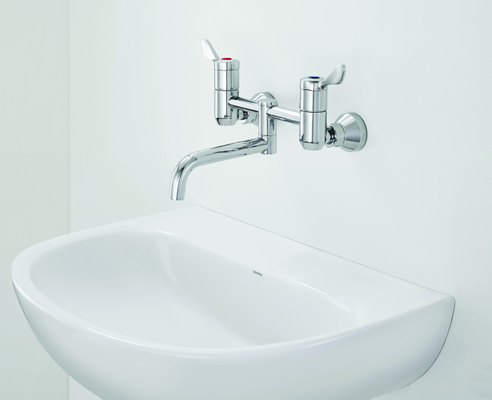 Caroma's New G Series Underslung Tapware Range
assists with Infection Control
Combining functionality with reliability, Caroma G Series Underslung tapware is designed to assist with infection control, offering the perfect solution for hospitals and health facilities. The domed surface reduces water retention and facilitates in easy cleaning and optimal hygiene control.
The range features a sloping spout allowing the water to drain effectively and a smooth bored outlet to reduce the risk of bacteria growth. Offering extended handle levers to allow elbow-operation for effective hand washing which provides an excellent solution for hospital and health facilities where hygiene management is vital. There is also the option to select shorter tapware handles, allowing water to be controlled using the wrist or palm.
The new tapware is compatible with a range of care and hospital specific basins and delivers the flexibility to interchange handles. Handle sizes consists of 65mm, 115mm and 150mm and outlets available measure 160mm and 200mm, providing the ideal solution to a variety of particular requirements.
To find out more about Caroma's G Series Underslung Tapware, please visit www.caroma.com.au or call 13 14 16.
GWA Bathrooms & Kitchens Profile
1300 227 662
Suite 102, Level 1, 7-9 Irvine Place, Norwest Business Park, Bella Vista, NSW, 2153