Open Rise Staircase from S&A Stairs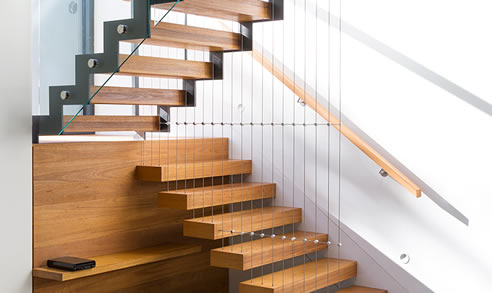 Maribyrnong is one of Melbourne's most iconic suburbs, snaking its way along the Maribyrnong river, just west of the city. In recent times, we've seen a swathe of new - and really interesting - housing developments spring up around the suburb, because in Maribyrnong, people see the value in spending time and money on beautiful architecture and design.
During the Scenic Place project, we combined several highly detailed elements - making sure that each one had its own space within the wider aesthetic. In projects like this, it's easy to over complicate things, and with so many different elements we have to ensure there's a balance between textures, tones, and timbers.
On the first flight (open rise), cantilevered boxed treads cover steel supports from a concealed stringer in the wall. It's a high risk, high care process, but the end result is understated and beautiful. The treads are made with super thick 84mm Blackbutt pieces, which match in profile to the wallrail (70mm x 45mm HR07)
On the second flight, there's a whimsical design touch, with steel zig zag stringers, and black steel staunchion posts (38mm x 38mm) rebated into the treads. The handrail is rebated and mounted onto a steel plate on one side, while patch fitted glass (12mm) is fitted to the outer stringer (and fascia) on the other.
As an added detail, the balustrade is formed by central wires that hang from the first flight treads, running all the way through the treads on the second flight. It's an incredibly detailed process, and one that brings a certain level of sophistication to the piece.