Duratuff Select Vinyl Cladding High Impact Make-Over by Austech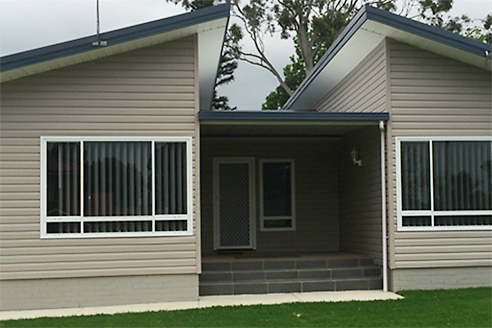 If your home exterior is looking a little shabby take a look at this exterior makeover. This home has a quirky façade that had deteriorated over the years.
This high impact exterior facelift was transformed complete with new front door, windows, gutters, tiles, painted brick and Duratuff Select Vinyl Cladding. Duratuff Select Vinyl Cladding has had a huge impact on this home and is maintenance free never to be painted again. All that is needed is an occasional hose down. It is guaranteed that it will not crack, peel, fade, rot, dent or split.
Duratuff also minimises your electricity bill by adding insulation to your home that keeps the heat out in the summer and in for the winter. Choose from 12 colours and available in in two length sizes.
Transform your home in a flash with a high impact make over with Duratuff Select Vinyl Cladding.