Flexible Hose Sink Mixer Vido from Phoenix Tapware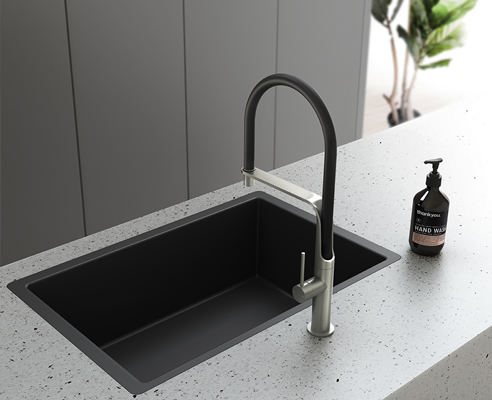 Phoenix Tapware's New Vido Flexible Hose Sink Mixer
Introducing the latest addition to the Phoenix designed Sink Mixer collection, the Vido Flexible Hose Sink Mixer. Developed by our Australian design team, this sink mixer features sophisticated forms and has been specially designed for freedom of movement to meet the needs of any household.
With its velvet touch, matte black rubber hose, the Vido Flexible Hose Sink Mixer emanates refined grace and functionality. Vido's unique streamline arch makes it the perfect addition to any designer inspired kitchen. The precision of line and curve make it eye-catching and complementary to its surrounds, while also offering a 360° swivel hose cradle for advanced functionality.
John Hoogendoorn, Phoenix Tapware R&D Manager says, "The R&Damp; team here in Melbourne have worked hard to ensure that functionality, durability and style have been united in the design of Vido, to create the ultimate kitchen appliance."