Website Upgrade and Signage Projects from Architectural Signs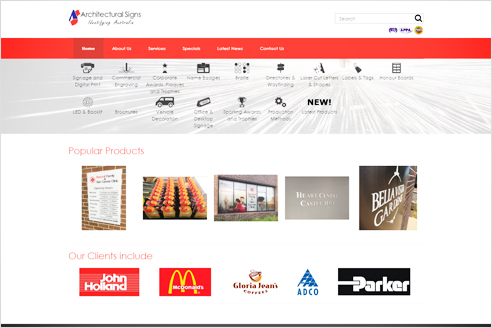 A website upgrade or redesign can be a game-changer for your business, but it can also take significant resources in time and money, so it's not a decision to be made lightly.
The average lifespan of a well-designed website is 3 to 7 years, but time alone shouldn't be the main reason for a redesign.
That decision should depend less on trends and more on whether your audience is effectively engaging with your site.
Key Reasons for a Website Upgrade:
You want your website to be a state-of-the-art representation of your brand and values.
Having an updated website sends a message: Your company is healthy, forward-thinking, and ready to take on new customers.
Good companies evolve and grow over the years and your website is the best way to showcase who you are. If you use modern website design elements to tell your story, you're more likely to engage your audience and leave a strong impression e.g. you can add, lifestyle imagery, case studies, industries served, and value-based messaging.
You want to stay competitive in your market
Different industries support different website lifecycles. A consumer website needs to incorporate the latest design trends in order to keep its brand fresh and connect with early adopters. A more technical, manufacturing, or information-sharing site can often take a wait-and-see approach to new trends and focus on other redesign factors.
Check out the websites of your key competitors and compare them to your own site. If you're considered a leader in your industry yet your site is the last to upgrade, it might be time to redesign.
You want to make your website easier to use and navigate
Look at your website through a user's lens: A website has about four seconds to make an impression before users hit the back button, meaning your navigation must be well-organized and your content must be easy to understand with clear calls to action.
Can you quickly sum up your core services?
Can you find the information you're looking for?
Can you easily tell where you are on the site and see where you want to go next?
When you're on a service or product page, is there a clear call to action call to take you to the next step?
Can you easily use your site from a tablet or smartphone?
If you find yourself getting lost on your site and it takes you more than a few seconds to find the information you're looking for, a redesign is probably in order.
Mobile-friendliness is now a requirement, so if your website is older, it might not be offering a good experience for mobile users.
You're launching a new service or product
Sometimes a new product or service doesn't fit cleanly into your existing website structure or can't be showcased appropriately.
Redeveloping gives you a chance to reprioritize what your website focuses on and create a site designed around your current sales goals.
You need to reinvigorate your marketing efforts
Your marketing strategy should be full of digital tools: search engine optimization (SEO), conversion-focused pages, content marketing, social media, compelling visuals, etc. Does your existing website have the technology or customizability to enable you to flex your marketing muscles? In order to serve as an effective foundation for your digital marketing plan (and make your job easier), your website should have:
Blog and news templates for content marketing
Social media integration
SEO-friendly URL structures and tools for keyword optimization
You need to add new technology and functionality
Looking to add e-commerce, robust case studies, or a custom quoting engine? Investing in these tools often makes more sense on updated technology.
Adding a bolt-on tool to an outdated website is often less effective and costs more than creating a new website with the functionality built in.
While these reasons can serve as a guideline as you consider whether your website is ready for a redesign, every company is unique, and there may be other factors that influence your decision.
Some of the key benefits of the new Architectural Signs website
Greater variety of signage and engraving examples across their key strength areas, such as Construction and Building, Fast Food, Corporate and Promotional awards, Medical, Education, Retirement Villages.
Updated ongoing specials and promotions.
Updated case studies relevant to these industries including company video.
Feedback opportunities for ongoing improved developments of new products and services.
Combining Architectural Signs key services under the one roof including engraving, printing and braille across all a wide variety of materials and requirements.
Stronger focus on the quality, customised projects and staff experience which makes Architectural Signs unique. This is based on client feedback and testimonials.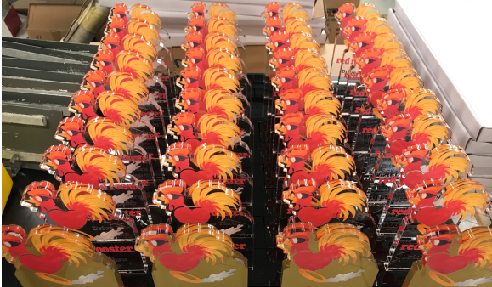 Why Consider Architectural Signs?
Feedback from clients:
Consistent and high quality across all projects; indoor and outdoor signage, general engraving, printing, and braille.
Friendly, efficient service and customised solutions.
One Stop Shop with most engraving and printing carried out in Architectural Signs' Castle Hill factory.
Vast experience across a wide variety of industries since 1979: Construction and Building, Fast Food, Corporate + Promotional awards, Medical, Education, Retirement Villages.
They keep abreast of new trends and technologies for client cost efficiencies and improved delivery of LED signage, UV flatbed printing for awards and signage, improved laser engraving and printing techniques.
Architectural Signs
For general and customised signage, braille and engraving solutions, visit www.arcsigns.com.au today.
You can also view our video by clicking here.