Indoor Pool Mosaic Tiles with LATICRETE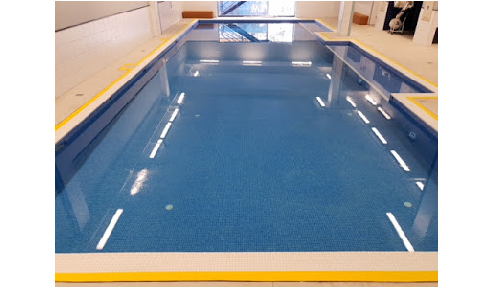 Last week we shared an indoor learn-to-swim pool that was underway in North Rocks, NSW, by the team from Trademark Pools. The team have shared some pictures of the finished project. The pool features Ezarri glass mosaic tiles installed with a range of LATICRETE materials to qualify for a 15 year Pool System Warranty. Materials supplied by Europe Imports.
LATICRETE products used:
226 Thick Bed Mortar is a factory prepared blend of carefully selected raw materials, Portland cement and graded aggregates. 226 Thick Bed Mortar was designed for use with 3701 Mortar Admix to produce a latex Portland cement mortar that has exceptional strength.
3701 Mortar Admix is a specially designed latex admixture for use with thin-set adhesives, cement grouts, cement mortar beds and other cement mixes.
LATAPOXY® Moisture Shield is a 2 component, roller applied epoxy coating specifically designed to reduce moisture vapour emissions in concrete and other substrates.
HYDRO BAN® is a thin, load bearing waterproofing/crack isolation membrane that DOES NOT require the use of fabric in the field, coves or corners.
HYDRO BAN® Adhesive & Sealant is a one component, fast curing, hybrid elastomeric adhesive and sealant. This product is specifically formulated to meet today's Green Building Standards and has excellent adhesion on a wide variety of substrates.
254 Platinum is the ultimate one-step, polymer fortified, thin-set adhesive. For interior and exterior installation of ceramic and stone tile, reduced thickness porcelain, quarry tile, pavers and thin brick. 254 Platinum provides long open time with unsurpassed adhesion and workability.
SPECTRALOCK ® PRO Premium Grout* - High performance epoxy grout that offers colour uniformity, durability and stain resistance with extraordinary ease of use.
LATASIL™ - A high performance, one component, neutral cure, 100% silicone sealant designed for ceramic tile and stone applications.
Click here to view/download the LATICRETE Pools, Spas and Fountains System Brochure.
Are you getting ready to start a pool project? Contact us to discuss your next project or arrange a demo, visit www.laticrete.com.au.