Window Care and Maintenance with Paarhammer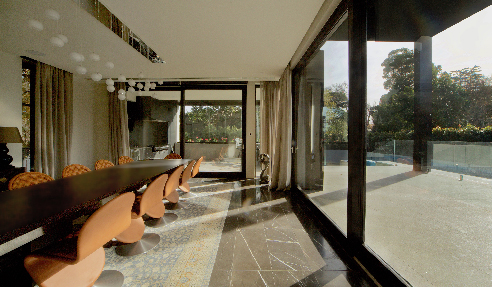 If in doubt, use water and a soft sponge.
The timber floor in the living room, the glass in the shower, the family car, all these areas of our lives receive some care and maintenance on a regular basis. On the other hand, windows and doors are often neglected. The only focus may be on the cleaning of the glass, and this can be done without proper consideration for the health of the glass.
With a little bit of effort, windows and doors remain functioning and looking good as new even after years of service. At least twice a year, all hardware should be cleaned to remove dust and dirt, and it may be advisable to have your windows and doors periodically checked and readjusted by a professional every two to three years.
Clear view
To clean the glass, a soft damp cloth will do well, maybe with a few drops of methylated spirits. Like with a car, the interior needs only a little water whereas the outside can do with a bit more water so that dirt and dust are removed without scratching the glass. Special care needs to be taken for self-cleaning or coated glass which must only be cleaned following the supplier's instructions. Ensure all cleaning cloths are free of any abrasive substances.
Windows and doors also have a frame
Every so often the frame of your window or door also needs some care and maintenance. For painted or stained timber frames special care products (e.g. maintenance kit by Paarhammer) are available which protect from the weather and may increase the repainting cycle.
Generally speaking, a solid colour will last longer than a stain, and a dark stain will outlast a light one. Also, different exposure to the elements has an influence on the longevity of the finishes, with horizontal surfaces needing more protection. Adler or Sikkens finishes only need a wash followed by a light sand as surface preparation. Two coats of the correct product will then return the surface to its original condition.
Oiled frames may need reapplying with a soft cloth after cleaning. For metal profiles, a soft cloth and possibly a neutral dishwashing liquid, or even a neutral car polish, provide best results.
Hardware and seals
Regular maintenance is required for all hardware, even stainless steel. In most environments maintenance is recommended every 6 months, and every 3 months in marine and industrial environments.
Hinges, gears and strikers should be given a light spray of a corrosion preventative (such as CRC, Innox or WD40) followed by a light wipe with a dry cloth to remove excess. Exposed surfaces should first be wiped down with warm soapy water and a soft rag, and then rinsed clean before applying preventative.
Visible surfaces of hinges should be wiped down with warm soapy water on a soft rag, and then rinsed off by wiping with a clean damp rag. Application of a thin film of light machine oil, or one of the corrosion preventative sprays mentioned above, will help to maintain the original lustre of the metal finish. Be careful not to get these compounds on the timberwork itself as they may cause staining.
Gears and drop-bolts should be sprayed with a lubricant, such as those mentioned above, at the sliding pin inside the bolt and into the lock cylinder. A tube attached to the nozzle will help to concentrate the spray where you want it to go.
Seals only need to be wiped regularly with a damp cloth, no chemicals are to be used.
Tilt & turn drainage
As the last part of a thorough cleaning regime, it is advisable to check the drainage holes at the bottom of the frame. These allow rainwater to drain away to the outside and need to be free of grime and dirt.
For more information, visit www.paarhammer.com.au.