Cost-Effective Pivot Arm Awnings for Large Applications from Blinds by Peter Meyer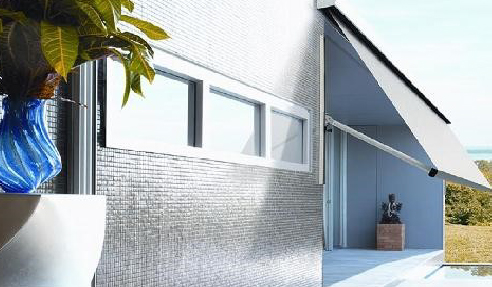 Designed for Australians by Australians, the Solare Teknica T5500 is a cost-effective pivot arm awning that provides superior airflow. Windows can be left open while the awning is projected to a maximum of 1500mm, allowing the air to flow right behind the awning. The heavy-duty pivot arm awning delivers a modern and contemporary style suitable for large windows and balconies.
The Solare Teknica T5500 cost-effective pivot arm awning is one of the leading products from Blinds by Peter Meyer. Aside from its high-build quality, T5500 delivers maximum performance and protection against high-wind areas, heat, and UV rays.
The cost-effective pivot arm awning is made up of the following components that separate it from the rest:
Open Headbox: The open headbox is designed specifically for pivot arm awnings and works by promoting air circulation throughout the rollers. By increasing the circulating air, it reduces heat build-up and minimises sticking on PVC skins.
Heavy-Duty Pivot Arm: The heavy-duty springs deliver excellent fabric tension with awning widths of up to 5 metres. It is made with a modern anodised finish that complements the standard Silver Pearl hardware.
Front Rail: The front rail bears the same style as with the other products under the Solare Teknica range for consistency.
The Solare Teknica T5500 has a huge fabric collection of Screen and Acrylic canvas that meets various specifications, with most fabrics available by request. For maximum user comfort and efficiency, Somfy motorisation is highly recommended. With just one touch of a button, Somfy enables users to control multiple blinds and awnings from one controller.
Clients can also opt to add sensors and timers for an energy-efficient control of heat and light while ensuring peace and quiet with its discreet and smooth operation.
For more details on Solare Teknica T5500 cost-effective pivot arm awning, call Blinds by Peter Meyer at 1800 254 631 or visit www.petermeyerblinds.com.au today.