Custom Conservatory Awnings by Weinor from Undercover Blinds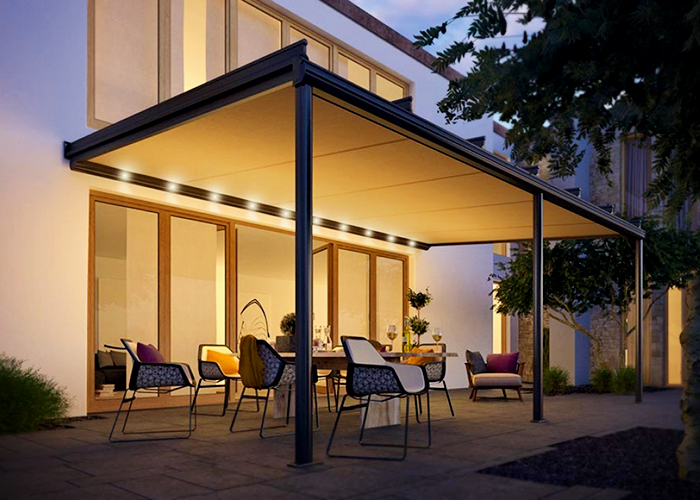 Custom Conservatory Awnings Add Class to Design
The Weinor company has been in the business of providing quality conservatory awnings and blinds to homeowners for a number of years. Products have been designed to blend in with the design of the building, providing a new line of sight for a conservatory roof or existing rooftop patio area.
Using Weinor conservatory awnings can add increased shade and promote cool air-flow throughout the home and under your pergola. Whether the intention is to create an outdoor conservatory or an addition to an existing patio, these retractable awnings have been built with care and the latest technology to provide quality sun protection.
Weinor doesn't just sell conservatory blinds, Weinor manufactures them. This ensures quality control and installations which come from the highest knowledge about the products purchased.
Some key features in our conservatory awnings and conservatory blinds;
Designed to withstand heat and retractable.
Roof mounted for stability.
Shade all the way to the edge of the building.
Tested and proven extension and tension technology for nearly crease-free fabric.
Quiet and easy to run.
These conservatory awnings and blinds are built to withstand heat and have been created to be roof-mounted. With roof-mounted awnings, homeowners can prevent excessive heat, creating a pleasant environment immediately adjacent to their interior conservatories. It's a place to relax in the cool and shade while interacting with anyone in the interior room via opened windows and doors.
The extension and tension technology built into the awnings has been tested thousands of times by the manufacturer prior to release to the consumer and offers superior quality as well as creating an awning fabric which remains almost crease-free. Conservatory awnings and blinds are quiet and easy to run, as well as passing strict wind testing conditions.
Create an instant patio with the addition of an awning, and if the privacy of an outdoor room is appealing, pair the awning with weinor accessories such as shade blinds for the sides.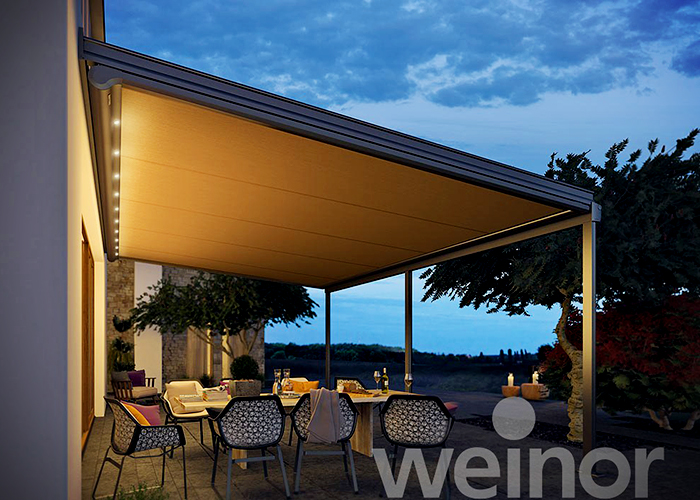 Sottezza II / LED - Enjoy relaxing times under your patio roof - this is the promise that is kept by your Sottezza II.
The decorative inside shadowing is elegant, sleek and understated - and suitable for almost every patio roof. The Sottezza II quite simply invites you to relax. And that's what you'll be able to do. That's because this awning reduces the development of heat under the glass and provides for feel-good temperatures - also in the summer. In the cooler seasons, the warming solar rays are used to heat up your patio area. At the same time, the Sottezza II also provides effective glare protection.
Features
Under-mounted conservatory shading.
LED light integrated in the cassette.
Clever versions: Stretch and OptiStretch.
A choice of 155 fabric patterns and 56 frame colours is available.
Specifications
Awning Style: Under glass-mounted awning.
Max. Width x Projection: 6m x 5m.
Options: OptiStretch, VertiTex, and Tempura Infrared Heating.
Custom Colour Options: 155 fabric patterns and 56 standard frame colours.
Awards: 2 awards.
Sottezza II Versions - Stretch and OptiStretch
With the Sottezza II OptiStretch, the fabric is positioned securely in the side channel - just like a zip. This ensures that the fabric remains taut, without its edges hanging over sideways. With the basic version of the Sottezza II Stretch, the fabric is clamped firmly on two sides. A strong rope clamping system with pulley technology minimises the fabric sag and reduces the risk of the edges of the fabric hanging over sideways to the minimum.
Elegant design - LED lighting integrated in the cassette. The cassette with the integrated LED lighting blends discreetly into the architecture of the patio roof.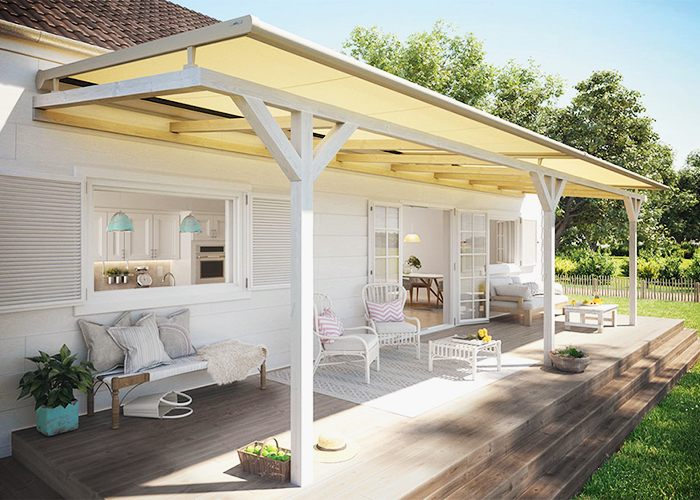 NEW! WGM Top - The over roof conservatory awning offering Versatile Slimline Sun Protection.
The over roof conservatory awning provides a pleasantly shaded place on your patio or in your conservatory where you will enjoy relaxing even on extremely sunny days. The over roof conservatory awning can be combined with almost any untrussed roof virtually regardless of the structural conditions and is therefore a real enrichment for your haven of well-being.
Specifications
Awning Style: Over Roof Conservatory Awning | Fully protected textile and mechanism.
Max. Width x Projection: 6m x 5m.
Max. Fabric Area: 36m².
Options: Stretch and Opti Stretch.
Multi-Section Units Max. Width: 13m.
Custom Colour Options: 47 std. frame colours, 9 std. trend colours, and optional 150 RAL colours.
WGM Top Stretch + OptiStretch Options
The WGM Top is available in the Stretch and OptiStretch versions that ensure optimum fabric performance and positioning. With the OptiStretch version, the fabric is firmly clamped on all four sides. The benefits: extremely taut fabric and no light gap on the sides. The basic Stretch version is clamped on two sides and there is a light gap between the fabric and side profile. A strong rope tension system ensures even fabric positioning with both versions;
Stretch
The really even tautness of the fabric positioning and performance creates a cosy atmosphere.
Stretch is held captive on 2 sides, cost effective and easy installation.
OptiStretch
Completely enclosed all round, ensures optimum fabric positioning without any hanging or saggy fabric edges.
On very large dimensions it also reduces the sag of the cover during operation.
Held captive on all sides with no lightgaps.
For more information regarding Custom Conservatory Awnings by Weinor from Undercover Blinds, visit www.undercoverblinds.com.au.