Vertical Awnings as External Window Blinds from Undercover Blinds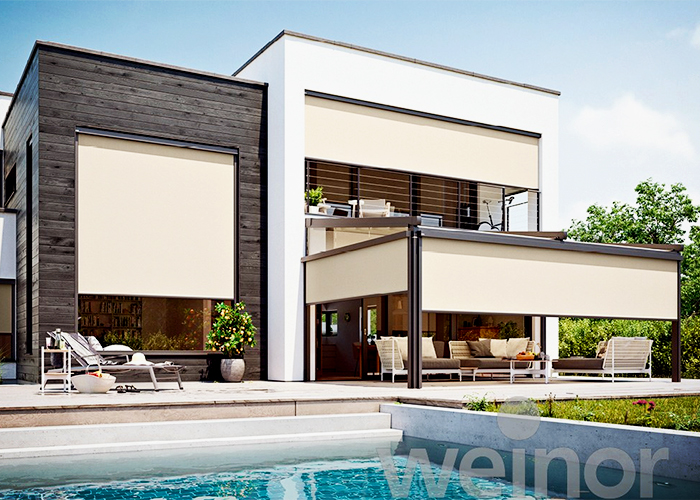 Vertical Style Awnings - Ideal External Window Blinds
For windows that let in too much sun in the summer, vertical awnings are the perfect solution. Vertical awnings drop down over the face of the window, parallel to it, such that the user can control exactly how much light he or she wants. All that has to be done is to raise or lower the window blinds to adjust to lighting conditions outside. This is perfect for when privacy is wanted, or a blackout of light is desirable. These quality vertically oriented products are available in a wide selection of fabrics.
VertiTex II - The perfect privacy and anti-glare protection. If you also want to enjoy the view outside, then our see-through fabrics are the ideal choice.
The VertiTex II vertical awning offers protection from the dazzling sun, prevents the patio and indoors from becoming uncomfortably hot, plus shelters you from prying eyes. Regardless of whether it's for the patio roof, pergola awning, window, balcony, or conservatory: the VertiTex II is always perfect. Thanks to its compact design, the many versions offer versatile protection against prying eyes and the weather, it is a real all-rounder among vertical awnings. And its unobtrusive design gives a great look to any facade in any application.
Specifications
Max. Width x Projection: Zip: 6m x 2.5m. Channel: 6m x 4m. Cable: 6m x 4m.
Max. Fabric Area: Zip: 15m². Channel: 14.4m². Cable: 14.4m².
Cassette 75: 86 x 75mm. Zip: n/a. Channel: H to 300cm. Cable: H to 300cm.
Cassette 92: 101 x 92mm. H to 250cm. Channel: H from 301cm. Cable: H from 301cm.
Wind Resistance:

DN 13661 - Zip: 3. Channel: 2. Cable: 2.
Beaufort - Zip: 6 to 49km/h. Channel: 5 to 38km/h. Cable: 5 to 38km/h.

Frame Colours: 56.
For more information regarding Vertical Awnings as External Window Blinds from Undercover Blinds, visit www.undercoverblinds.com.au.