Grout Colour Matching Adhesives from LATICRETE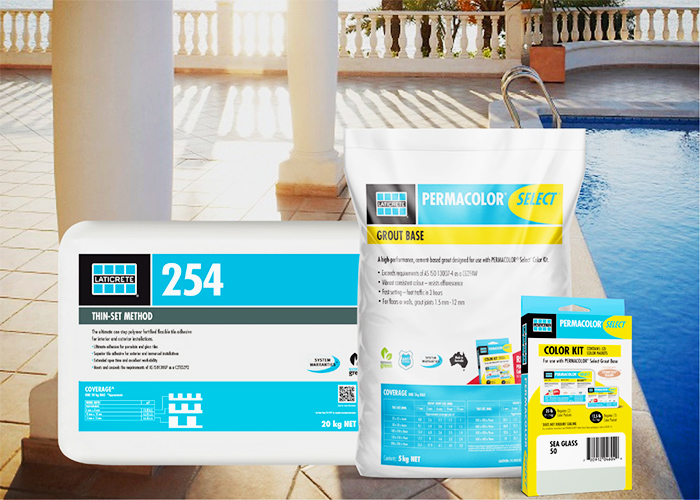 Extensive Adhesive Colours - Available to Match Grouts
Fred Gray, LATICRETE Australia Technical Services Manager, provides an informative article on matching coloured adhesives and grouts within the LATICRETE product range.
For over 60 years, LATICRETE has promoted the use of coloured adhesives with thin glass, ceramic, and stone tile installation where, amongst other things, the expression of regular adhesive to the tile face is problematic.
Over the decades, contractors have been using 4237 Latex Additive with our cementitious grouts to make a coloured tile adhesive, which is the same colour as the grout used to make the adhesive. This innovation increased productivity and the quality of installation particularly with thin and transparent tile. Tiles could be adequately bedded without the fear of an unwanted coloured tile adhesive in the joints - which would otherwise require removal prior to setting - to make room for the coloured grout. No more raking or brushing the adhesive out of the joints. Once the adhesive has dried the grouting operation began, with a grout of the same colour of the tile adhesive, ensuring a consistent appearance.
The concept of the coloured epoxy adhesive and grout soon became popular with LATAPOXY® SP100 epoxy grout. Again, no requirement to remove the adhesive from the joint, because it was the same as the grout to be applied once the adhesive set. Given the nature of the epoxy adhesive, this was particularly well accepted by the contractors.
The new platform for coloured cementitious adhesives and grouts is PERMACOLOR® Select. With this system, colouring the 254 Adhesive or PERMACOLOR Select powder is achieved with the use of the PERMACOLOR Select Color Kit (pigment). Pigments in a dissolvable pack is mixed in with the gauging water to achieve the colour you want in the adhesive and grout. Not just our standard colour palette but with some advanced notice, any colour you want.
Contact LATICRETE for product details and procedures.