Echostop™ acoustic wall covering from Acoustica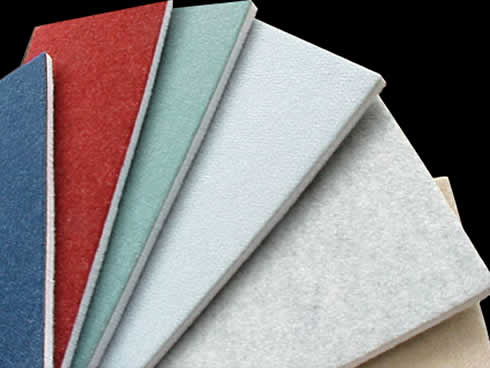 EchoStop is an Acoustic wall covering constructed from polyester fibres thermally bonded in a non-woven matrix and laminated to a high density non-woven polyester backing. EchoStop is available with either a velour type or 'Classic' rib finish in 30 fashion colours.
EchoStop is ideal for areas where reverberated noise is a problem and because it is pin, staple and 'hook and loop' receptive, it's perfect for everything from kids' bedrooms and games rooms through to offices and classrooms.
EchoStop has been tested to a Noise Reduction Coefficient (NRC) rating of 0.4 and with adequate coverage, will typically reduce reverberated noise by approximately 40%.
Available in rolls or tiles and also with the tiles an option of a self adhesive peel "n" stick backing.
EchoStop tiles provide the designer or handyman complete design freedom. Create a chequerboard effect by choosing just one colour and laying in alternate directions, or mix and match the colours to create almost limitless design options.