Ceiling Sound Insulation with Soundbricks from Acoustica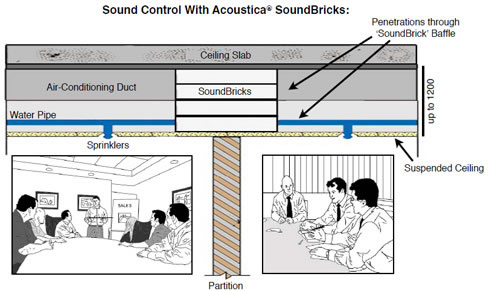 Lightweight, easy to install and highly effective insulation method for sound insulation of ceiling spaces above partitioning.
Acoustica's SoundBrick is a ceiling cavity insulation system that can dramatically reduce sound transmission between offices and rooms and improve the ambience of the work environment.
SoundBricks 'add a wall' over suspended ceilings along the length of paitioning to enclose the ceiling cavity to form a continuous wall from floor slab to ceiling slab.
The highly absorbent polyester block SoundBrick not only acts as a noise barrier between adjoining office space, but also as a sound absorbing ceiling baffle to reduce ambient noise levels.
Acoustica® high density Soundbricks have a C.A.C. (Ceiling Attenuation Class) of 58. SoundBricks high density polyester fibre 'bricks' at 32 kg/m3, are lightweight and easy to install, no track or studs are necessary. SoundBricks are easily contoured around building services.
Penetrations, ducts, pipes, electrical cabling, are easy to seal without any degradation in acoustic performance. No overlapping edges, taping or sealing is required and some gaps can exist. Should future wiring, pipes, etc., need to be installed in the ceiling cavity, this system permits easy retrofit for any new penetrations.
The material used is totally 'clean' and complies with all building standards. It is non-allergenic and will not shed fibres.