Stormwater Collection Infiltration Tanks by Atlantis Corporation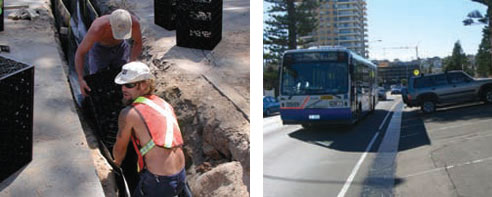 Infiltration devices can be used to manage stormwater runoff from roofs, paved surfaces, rainwater tank overflows and grassed and vegetated areas. Runoff from each of these sources can be directed by pipes and overland flow to an Atlantis Infiltration Tank. Prior to entering an Atlantis Infiltration Tank, the stormwater must receive pre-treatment. This removes sediment and other material, improves the quality of runoff and helps minimise the risk of clogging the Atlantis Infiltration Tank.
An Atlantis Infiltration Tank collects and stores stormwater runoff until it infiltrates to the surrounding soil and evaporates to the atmosphere. By removing a portion of stormwater runoff, infiltration basins reduce stormwater peak discharges and volumes to downstream catchments. They also improve the quality of stormwater discharged to the receiving environment. Atlantis Infiltration Tank generally has a greater volume of void space than a conventional gravel-filled retention trench. Consequently, Atlantis Infiltration Tank can provide a greater storage volume per unit of area. The effectiveness of infiltration is improved with the use of complementary measures such as rainwater tanks, porous paving and landscape measures. Atlantis Infiltration Tanks can be designed to achieve a range of objectives including.
minimising the volume of stormwater runoff from a development
preserving pre-development hydrology
capturing and infiltrating flows up to a particular design flow
enhancing groundwater recharge or preserving pre-development groundwater recharge.
The application of infiltration systems is best suited to moderately to highly permeable in-situ soils (i.e. sandy loam to sandy soils). Ideally, soils should have no greater than 20% clay content, and less than 40% silt/clay content. Infiltration systems can still be applied in locations with less permeable soils by providing larger detention volumes and infiltration areas. The presence of a high water table can limit the potential effectiveness of infiltration devices. Atlantis Infiltration Tanks can be successful in areas with high water tables provided the water table is stable. It is generally recommended that the base of the infiltration system be a minimum of 1.0 m above the seasonal high water table. Infiltration into steep terrain can result in stormwater re-emerging onto the surface at some point downslope. The likelihood of this pathway for infiltrated water is dependent on the soil structure. The provision for managing this pathway will need to be taken into consideration at the design stage to ensure hazards or nuisance to downstream sites are avoided.
For examples of Atlantis Infiltration Tanks, please view the Case Studies information on the Atlantis website.