Roller Blinds Sydney from Rolletna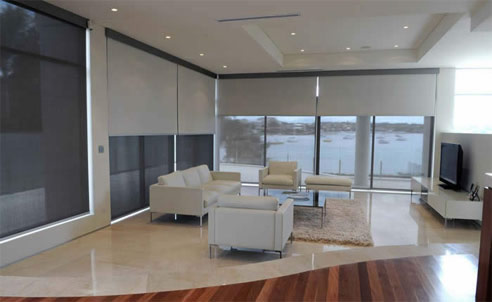 Configured in either a single blind or dual roller blind application, Rolletna's design team will assist with helping make the right decision to achieve sun and or privacy control. Duo or dual roller blinds can be configured to keep your daytime privacy as well as providing views to the external environment; lower the duo blind and the ambience changes to create night time privacy. To achieve this, we have developed a special duo blind brackets that allows two blinds to be fitted neatly inside a window sill or on the face of the window. With dual blinds, convenience and functionality of different fabric types may be combined to suit every design requirement.
To enable the sun to make a positive contribution, Rolletna uses a sun-screening concept which keeps the views that we desire whilst maintaining privacy. Our very large variety of screen fabric will reflect the sun's radiation while the view towards the outside remains intact and daylight continues to enter the room virtually unobstructed.
Rolletna's superb internal and external ranges of sun control fabrics all have insulating properties that keep out the intense summer heat, whilst filtering out up to 99% of the sun's harmful UV rays to help protect all furniture.
One of the hardest requirements to achieve with a screen blind is to control glare and heat and view at the same time. Aluminium backed fabric can be a solution for this however most aluminium backed fabrics are extremely fragile and are also susceptible to oxidation from salt water (an issue if you are close to the ocean). Rolletna uses a unique fabric solution that has a white back as part of the weave. This fabric is able to achieve a 46% reflection of heat whilst reducing glare and maintaining views.
See examples of screen fabric solutions on our large 3 metre x 3 metre western facing windows in the showroom.
Our Roller blinds are simple, stylish and easy to operate, made from high performance fabrics designed to withstand the harsh elements of the Australian climate. The refined appearance of roller blinds is due to the use of advanced 'ultrasonic' fabric cutting technology to prevent fraying. Maintenance free, Rolletna's internal systems guarantee optimal working and living comfort, as well as offering outstanding aesthetic qualities.
We will guarantee our product as being fault free for 5 years.