Roman Blinds Sydney from Rolletna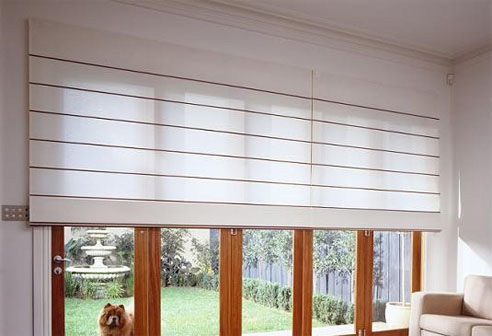 Classical and elegant, Rolletna roman blinds are feature in themselves. Roman blinds fold up or down and create a distinct feature of the horizontal fold line. The fold line can be kept subtle with by a simple pleat or a timber batten can be attached to provide an oriental classic look.
Roman blinds are typically specified by designers where a feature is required of the blind and fabric. Roman blinds can be fitted over the window to achieve a good block out solution for bedrooms. Alternatively roman blinds can be fitted into a window reveal. Roman blinds will fold up vertically and when fully retracted, all the folded panels will sit neatly behind the top most fabric panel of the roman blind.
When putting roman blinds side by side we always consider how to make the fold line line-up; not so much of an issue if the windows are the same height however it is an issue if they are not.