Acoustic Pipe Lagging Acoustiflex® from Acoustica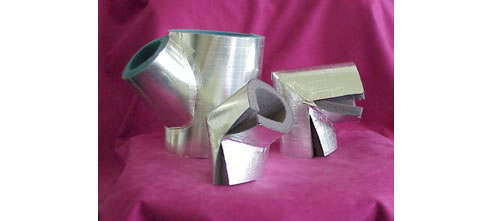 ACOUSTIFLEX® PL5/15 ACOUSTIC PIPE LAGGING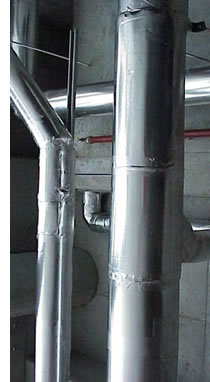 A quiet environment is mandated by the Building Code of Australia for residential apartments, hotels, motels, aged care buildings, townhouses and other attached buildings. Acoustiflex® PL5/15 (5kg/m2) pipe lagging is designed to contain the intrusive noise generated by the turbulent flow of waste-water through piping and fittings.
Acoustiflex® PL5/15 pipe lagging comprises a noise barrier to contain pipe-wall vibrating noise and a high density sound absorber for the wastewater stream noise. This bonded double layer of heavyweight, but flexible acoustic insulation is housed within a heavy duty reinforced aluminium foil casing. Acoustiflex® PL5/15 is available with a choice of a flat or convoluted sound absorber.
Acoustiflex® PL5/15 has been rigorously tested by NATA and CSIRO laboratories and meets the requirements of the Building Code of Australia. For RW ratings of 25 + CTR and 40 + CTR, product should be correctly installed (preferably by a professional installer) in conjunction with 10mm plasterboard.
The flammability rating of Acoustiflex® PL5/15, according to AS 1530.3, is rated zero in all four indexes of ignitability, spread of flame, heat evolved and smoke developed.
The special construction of Acoustiflex® PL5/15 combines mechanical strength with exceptional flexibility offering significant time savings during installation.
Acoustiflex® PL5 is unaffected by water, will not delaminate and will perform continuously over the life of the building without any degradation of acoustic performance.