Aluminium Dampcourse Alcor from Vincent Buda & Company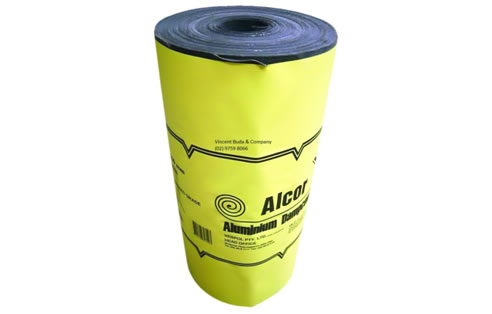 Alcor - Aluminium Dampcourse
Vincent Buda & Company stock and sell a large range of Aluminium Damcourse or better known as Alcor. Alcor is a bitumen coated annealed 99% pure aluminium core Dampcourse supplied in various widths and thicknesses. The aluminium core is coated with bitumen on both sides and edges to prevent lateral corrosion.
Alcor is used as a damp-proof course, window and door flashing, valley flashing or ant capping in domestic, commercial and industrial building applications.
Alcor is impervious to moisture and is easily dressed and formed as it has excellent shape retention. It is not affected by lime and cement. Standard thickness is 0.3mm thick aluminium core. Alcor is available in the following widths - 110mm, 150mm, 230mm, 300mm, 350mm, 380mm, 450mm, 600mm.