Synteko Classic Seals Award Winning Timber Floor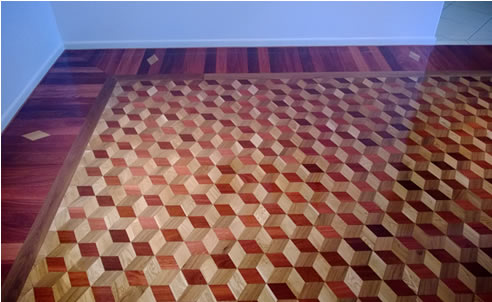 ANNOUNCEMENT
The Winner of the Australian Timber Floor Association for 2014 is sealed with Synteko Classic.
Synteko Classic, the original Swedish finish was selected by Alberto Vieria, of International Parquetry, for its unique ability to accentuate the flawless beauty of this handcrafted 3D floor enabling him to when the coveted industry award.
Over the past 65 years, Synteko' s Swedish finish known as "Classic" has withstood the test of time and set the benchmark for excellence, that no other solvent-based finish can match. The distinguishing feature about Classic is that it allows the light to penetrate into the wood, resulting in a unique depth and optical clarity of the wood and grain definition, resulting in unsurpassed beauty of the timber floor. In addition Synteko's Classic system also provides a floor finish that is durable, scratch and scuff resistance as well as solving most coating problems experienced in the industry.
Classic is a sophisticated product that is designed to be used as a self-sealing system over itself. It can be coated over all new timber floors instead of traditional oil based finishes without the incidence of edge bonding because of its brittle characteristic. In addition a further advantage is its low maintenance cost that is commonly associated with polyurethane type finishes. Due to its unique formula coupled with the use of high quality raw materials this floor finish will not only result superior adhesion performance to the timber fibres but also experiences the lowest incidence of rejection over all other floor coatings. For example on oil resinous timbers, such as Brush box, Classic has 100% success rate of never peeling or rejecting on the surface.
The second dilemma, drying time, must also be considered. The chemical make-up of various woods such as Brush box, Tallowwood, Turpentine and even Cypress Pine may adversely react with certain types of finish, causing intolerably long drying times coupled with rejection, bubbles and pimpling. Classic's is a highly reliable, fast drying floor seal with high solids content that overcomes these issues.
The third dilemma is colour. Most likely, customers will not understand that colour change is innate and not necessarily a consequence of finish application. However, many floor coating finishes will create reactions within the wood resulting in colour change. For example, polyurethane or tung-oil based finishes will, over time, cause Brush box and Jarrah to go yellow, whilst water base finishes will result in an anemic looking colour. Therefore, the wrong type of finish can truly alter the overall appearance of the floor.
The Swedish Solution
More than once, architects, designers and floor sanders have told us at Synteko that our finishes are very forgiving, and nowhere is this more evident when applying finish to problematic timber species.
Synteko Classic alleviates the frustrating issues of adhesion, finish application, drying time and tarnishing colour of the timber.
As many in the industry know, Synteko Classic is amazingly adept at bonding with any timber floor surface, especially oily or exotic wood species. In addition, Synteko Classic Swedish finish allows for smooth and uniform application. This is because of the uniform penetration of our finish that eliminates concern about uneven drying and inconsistent sheen levels.
The dramatic colour of timber is significantly heightened with the application of Synteko Classic. Rather than altering the appearance of the wood, Synteko Classic leaves a rich warm depth, accentuating the wood's existing beauty for many years. There is no plastic like build-up to detract from the unique exotic grain or tarnishing affect. If surface scratches are made in the topcoat they are less visible than other finishes and less likely to chip or peel away. No need to apply acrylic type waxes on a monthly basis. When the Synteko Classic system begins to show signs of wear it can be simply re-coated without re-sanding to bare wood.