Landscape Sculpture Cor-Ten Steel from ARTPark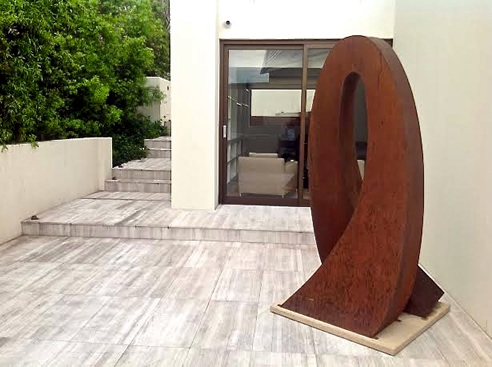 Sculpture makes a clear Statement of style and design...
This is a bold statement, a wise investment to be proud of. "Embrace" by artist A.K, a large piece sitting at 100x100x200cm constructed from Cor-Ten steel. Boasting an elegantly organic design which makes us question and wonder what is possible, and what can I do to fill my space? Are there limits? Art really gives you freedom to do what you want and how you want to do it. The only limit is your imagination.
ARTPark Australia can offer the architect/designer or home owner the opportunity to consider a vast range of sculptural works by living Australian artists.
Encompassing internal smaller scale works to large scale works, suitable for commercial or public placement, ARTPark Australia has a form to suit!
In most cases you can then trial particular works in your home /office, with no obligation, to ensure the right choice (conditions apply).
We have a perennial exhibition program throughout Sydney's CBD offering examples of the artists work in the sumptuous environment of some of the city's finest building Alternatively search the site www.ARTPark.com.au to preview the work before coming in to see it in the flesh.