Wood Cladding with EnviroSlat from Futurewood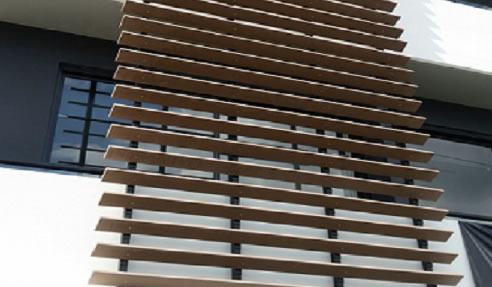 Mentioning wood cladding to your clients may paint a picture of an elegant cosy Swiss alpine chalet in their minds.
Today wood cladding is no longer confined to the exterior - it has earned a diverse functionality.
Safety first!
Before proceeding on your wood cladding project, secure a building permit to make sure that any retrofits or new projects are in line with the local building code.
The Interiors
Wood cladding brings out a modern, rustic, but warm appeal to any interior. It adds a sense of balance, character and creativity. Cladding interior walls with composite timber brings warmth to a dull space, adding texture the naked eye can easily adjust to. Composite wood cladding is a convenient way to bring nature right into the heart of a home or office.
Here are some enticing wall ideas that will help you upsell composite wood cladding clients:
1. Tickle the fancy and appetite of diners by using a mahogany coloured EnviroSlat wall cladding. Extend the feature wall up to the ceiling, creating a wooden ceiling panel. For a complete rustic look, pair it up with a dark mahogany table and dining room table chairs.