Pre-Mix Coloured Glass Fusion Mix from Schneppa Glass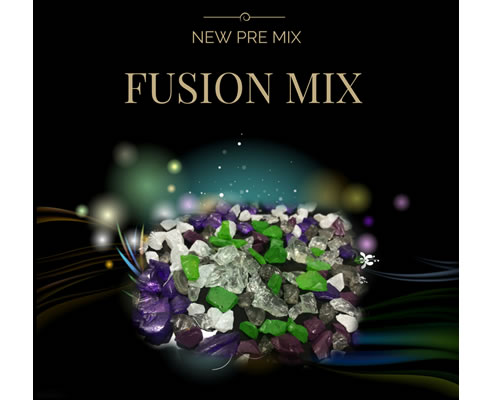 New Pre-Mix Colour Launch: FUSION MIX
Here at Schneppa Glass we have been searching for the perfect colour combination to complete our collection of pre mix colour glass.
Our current mix includes Ocean Mix which is a blue based mix, Fire Mix is a red/orange based mix, and Forest Mix is a green based mix.
Our pre mix colour palette has followed that of the natural elements; Water is represented by our Ocean Mix, Fire is our Fire Mix, and Earth is our Forest Mix. The remaining element is Wind and our newest pre mix colour called Fusion Mix is represented by that.
As you can see from the images below, the main colours of our newest pre mix include green, purple, and white. To ensure a varied look in application, we have combined 6 colours of our crushed glass.
Adding Fusion Mix to our pre mix collection means we now have 4 pre mix options available for you to choose from to suit your designing needs.