Restaurant and Club Signage from Architectural Signs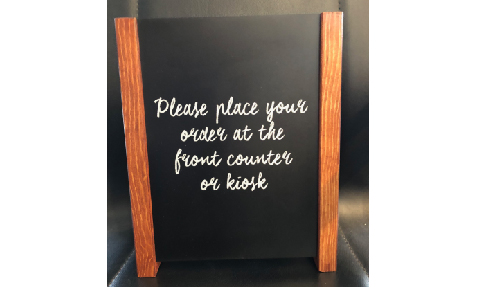 Restaurant Signs
Restaurants are far more successful when they effectively use signage to entice potential customers into their locations. Before they see or smell the food, customers are exposed to signage, so it's absolutely imperative that the right signs are used to bring people in the doors.
Having signs inside your restaurant benefits both the customer and employee alike. There are a variety of signs that are needed in a restaurant to allow daily operations to run smoothly, as well as fulfil any state health code regulations that require certain signage. When planning on signs to display in your restaurant, it's important to consider how you can help customers navigate the facility, while also providing enticing visual signage to help sell your food and services!
Indoor restaurant signage includes table tops, menus, public health notices, signs designating areas where alcohol is served, restroom signs, emergency exits, and directional signs to point patrons to where to stand in line. Signs are often overlooked in restaurants, but they are critical to not just a functional business but one that meets all the bylaws and health codes that come with it. Presenting sales and menu specials to customers is a must for restaurants to thrive. There are many ways in which you can show off your latest deals and sales using signs.
Registered Club Signage
Registered clubs are required to display signs about the guest member register and the Registered Clubs Act 1976 (in addition to other signs required in all licensed venues).
Other Signage types needed;
Liquor Signs: Every licensed venue is required to display certain Liquor related signs in and around the premises.
Gaming and Keno Signs: If your venue has gaming machines or offers Keno or public lottery sales (internet source).
Menu Boards:
Create easy to edit snack bar menus
Feature dining and drink specials
Schedule items in advance to play when desired
Cross-market with club events and amenities
Member Communication Boards:
Keep members up-to-date on club events
Highlight local weather, sports and news
Announce new members and accomplishments
Display photos of events and tournaments
Architectural Signs can present your restaurant and club in a different light to its competitors through customized quality signage.
For a restaurant, club and general signage, braille and engraving solutions, visit www.arcsigns.com.au. You can also view our video here.