Timber-look Cladding & Battens for Luxury Apartments by DECO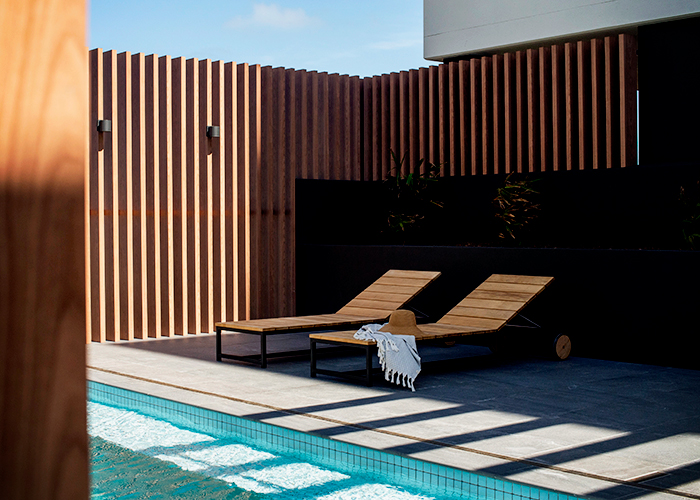 DECO cladding and battens add elegance to luxury apartments
DECO Australia's leading range of timber-look aluminium building products have added natural warmth and sophistication to Mosaic Design and OGE Group's latest award-winning luxury apartment buildings. Solis, their stunning complex located in Kings Beach, Queensland, is a sensational design that reflects the beauty of its Sunshine Coast location.
When choosing products for this design, environmentally sustainable products were a must, as well as low-maintenance, hardwearing products that would maintain their appearance in the coastal air and sunlight. DecoClad and DecoBatten, DECO's solid aluminium architectural cladding and batten products, were ideal choices for the project. Their realistic timber-look appearance adds to the luxury coastal vibe, while their Qualicoat Class 2 marine grade powder coatings offer excellent protection against the elements.
DecoClad V-Groove, which replicates traditional timber cladding, was positioned on the ceiling, soffit, and wall lining of the penthouse apartments, adding a touch of decadence to these exclusive residences. DecoBatten, DECO's unique timber-look batten system, provided an attractive pool fence and pergola.
These eye-catching designs, created from 200 x 50mm battens, create stunning beachside statement features. DECO's exclusive 'Quick Click' 50 x 50mm battens are also featured on the wall at the entrance of the building, carrying the coastal timber-look theme seamlessly throughout the design.
Made from recyclable aluminium with a VOC-free finish, the DecoClad and DecoBattens featured on the building also reflected Mosaic's commitment to sustainability.
Finished in the soft brown timber tones of DecoWood® Natural Spotted Gum, the DECO products featured on this project exude effortless, tasteful, contemporary design and the embody the relaxed ethos associated with coastal living.