Classic Timber-look Cladding for Betty's Burgers from DECO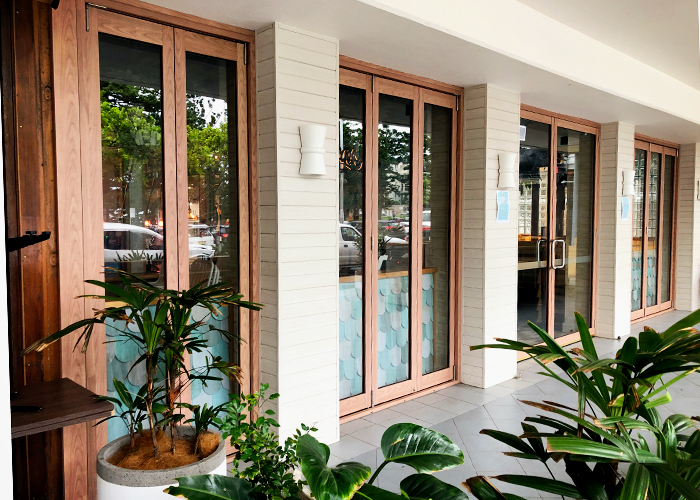 Cronulla Burger Store Comes to Life with DecoWood
Betty's Burgers has been making a name for itself in the Shire since 2014. A modern take on the classic 'burger joint' beloved by many, it is famous nation-wide for its delicious burgers and frozen custard, and operates in over 20 locations. Paul Kelly Design took on the challenge of fitting out the chain's newest store, located in Cronulla NSW, seeking to create a 1950s beach shack vibe that would resonate with local customers and bring the brand's quirky personality to life.
As the store's coastal location meant high levels of salt spray and UV rays, products which could withstand the elements were a must. DECO's Super Durable™ timber-look powder coat finish, DecoWood®, was the ideal choice for the window and door frames. Using Qualicoat Class 2 powders, which are marine grade and suitable for high UV levels, gave the aluminium frames excellent protection against the surrounding coastal environment, as well as a low-maintenance finish ideal for a high-traffic, busy restaurant.
The soft tones of DecoWood® Spotted Gum were chosen to complement the coastal surroundings. DecoClad V-Groove cladding boards adorn the external walls of the building. These easy-install timber-look cladding boards require no staining or refinishing unlike timber – an excellent choice for a coastal area where natural timber would require constant upkeep. The low-maintenance product allows the store to spend more time on feeding their hungry customer base rather than refinishing.
Demonstrating their ability to rise to any challenge, DECO provided a custom DecoWood® finish for the cladding, creating a unique whitewash appearance to add to the rustic, weather-beaten aesthetic of the store.