The Sunshield 80 louvre blind for horizontal, sloping or unusually shaped windows from Maxim Louvres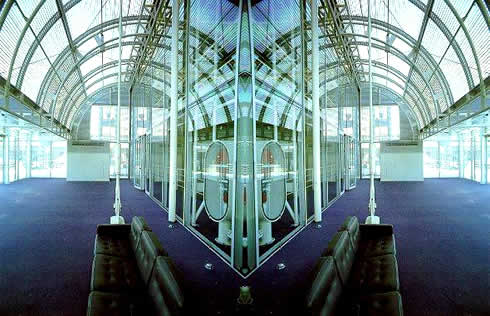 It is the most effective method of reducing solar heat gain via glazed areas, up to 90% reduction being obtainable. The fully adjustable louvres also control glare, allow outward vision and at the same time, ensure good lighting conditions.
Sunshield louvres provide comfortable working and living temperatures, allow air conditioning plant to operate more effectively and save energy. Sunshield is easily adapted for installation on new or existing buildings and automatic control systems may be integrated with light systems to operate background lighting.
The Sunshield 80 is particularly suitable for drawing offices, factories and home extensions and has been fitted in many famous botanic gardens and art galleries.
The Sunshield 80, installed internally, may also be used as a suspended ceiling and wall cladding. Blinds are also available to suit curved glazing