Radcrete Pacific is at the forefront of concrete waterproofing and protection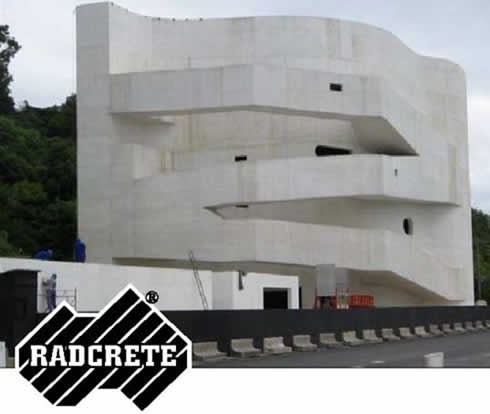 Radcrete Pacific was formed in 1987 with the ultimate goal to globalise the most sophisticated yet simplest to apply concrete waterproofing technology that the world had ever seen.
The original bio-chemical process to achieve lifetime concrete waterproofing was first developed by Dr. A.W Smith in 1975, a scientist nominated for a Nobel Prize.
Dr. Smith utilised his knowledge in the medical field to produce a silicate based waterproofing technology that could react in the matrix and cracks of concrete in a similar fashion to how cuts heal in human skin.
He succeeded in that the Radcon product remains re-active in concrete re-inventing itself to achieve lifetime waterproofing utilising occasional water periods as the catalyst in order to react with more free calcium in concrete. This ensures any long term concrete cracking remained totally sealed and totally watertight as this flexible gel reaction accommodates high thermal stress extremes without failure.
This said! Radcrete's greatest battle has been to convince a global marketplace that Radcon does deliver lifetime waterproofing, cost effectively utilising a simple silicate base chemical.
However as our faultless track record began in 1975, thanks to the inventors original sites; and as the technology now spans 45 countries, it is again the imitation silicate based materials with no crack sealing capabilities that continue to damage our Radcon Formula #7 waterproofing products reputation.
Companies selling mere silicate floor hardeners with no crack sealing capabilities have been making outrageous claims in order to compete with Radcon on lower pricing. When their systems fail, all too often Radcon as global brand leader is denigrated, given the material on offer was sold as an equivalent to our well known and renown Radcon product brand name.
The only way to ensure you are receiving a genuine waterproofing technology (Radcon Formula #7) and not just an inferior chemical sealer is to deal directly with Radcrete Sydney or our nominated global representatives as represented on our website.
By offering our rewards programme we can monitor your nominated sites thus ensuring genuine Radcon Formula #7 waterproofing has been supplied.
Now you can achieve worlds best waterproofing, worlds most cost effective and simplest to apply waterproofing.