Rolletna provides privacy and protection from the harsh Australian climate with their range of sun screen fabrics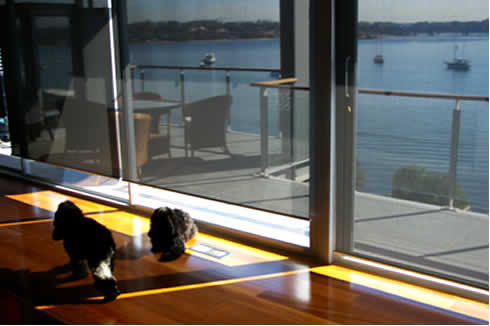 Now you can have that privacy you've always craved for with our extensive range of innovative sun screen fabrics designed to protect your valuables and assets from the harsh Australian climate.
Varying extensively in range and scope, our fabric range encompasses every possible application and purpose, however one specific series that begs to be mentioned is our array of sun screens. To enable the sun to make a positive contribution to your home and lifestyle, Rolletna uses a sun-screening concept that offers a solution to every situation. Technically speaking, sun control fabrics consist of PVC coated fibre glass enabling them to be excellent insulators keeping out the intense Australian summer heat, and filtering out 90% of the UV rays that threaten to damage furniture that makes up an integral part of your home. On a practical level this means that they reflect and even absorb the suns harmful UV radiation while the view to the outside world remains intact with daylight entering virtually unobstructed.
If you're after a fabric that protects your family and assets, look no further as the Rollasmart sun screen is the answer you've been searching for.