Indulge your senses in something practical with Rolletna's new range
of fabrics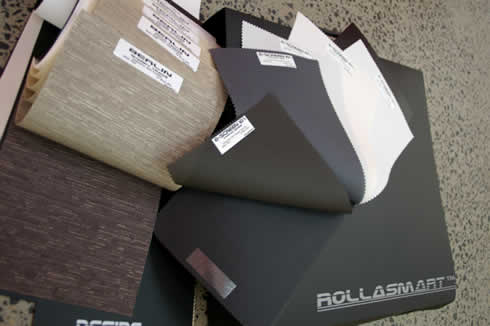 Indulge your senses in something practical. When you see our new range of fabrics you won't need to look any further for window furnishings.
Rollasmart fabrics vary so much in scope, range and purpose that there is only one attribute that can bond such a vast array together - and that is quality! With our constant striving for innovation and product development to satisfy the fast-changing market requirements, we pride ourselves in fabrics that are manufactured of non toxic natural materials safest for even the little ones. What's more, our fabrics are mum's dream as their antistatic properties make them resistant to dirt making them the lowest maintenance of window furnishing available. Dad would be pleased to know that the glass fibres used in the textile fabrics not only eliminates glare buy is also indestructible, rot free, antistatic, anti-allergic, non-flammable, and particularly long lasting.
The whole family can enjoy the refined appearance of fabric not subject to wavy edges, or fraying. This unique feature can only be attributed to the utilisation of the advanced "ultrasonic" fabric cutting technology used in the manufacture.
And at the pinnacle of all this is our expert duo system which allows the convenience and functionality of different fabrics to be combined in colours, textures and practicality to suit every design imaginable.
Please be our guest at our main showroom/factory in Rosebery where you will be able to witness a vast array of fabrics on display.