Sustainable Sports Fields with Atlantis Corporation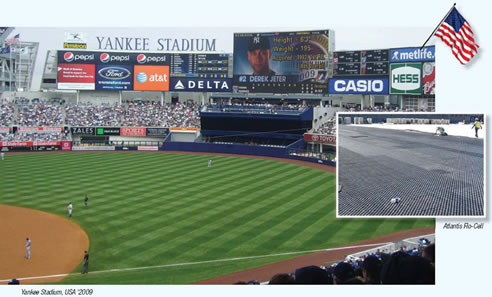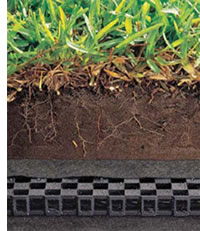 The Atlantis Drainage System is one such innovative solution to sports field management. The unique design of the Atlantis Drainage System creates a constant sub-surface aerobic water table in suspension known as a perched water table. In dry weather, a consistent water supply is maintained below the surface. Even in a heavy storm the perch remains at a constant level below the surface. The continual water supply and beneficial subsoil ventilation of the Atlantis Sports Field Drainage System results in excellent turf colour, a healthy root system and stronger more resilient turf overall. The Atlantis Sports Field Drainage Systems facilitates quicker wear recovery and maintains healthier turf all year by combining a high-growth root zone environment with rapid drainage rates and increased moisture retention.
Furthermore, Atlantis provides turn-key solutions to many challenges by collaborating with strategic partners that are considered the best in their respective fields. As the saying goes - "together we can achieve more" and that is certainly true when designing and offering sustainable solutions. We have said it before that when you utilise the total solutions - whether it's a sports field, golf course, green roof or large scale landscaped area - Atlantis + Partners can reduce the water consumption used on-site by a staggering amount.
In addition to sustainable sports fields, Atlantis technology has been used extensively in roof gardens, green vertical walls, ecological streets and podium landscaped areas very successfully.
Humberto Urriola is a landscape architect and industrial designer and has over 40 years' experience in providing environment and water management solutions. He is the inventor and creator of the Atlantis Subsurface Infiltration and Rain Harvesting Tanks, and has invented and registered over 60 patented products. He is extremely passionate about saving the planet and is the driving force behind the green city design that is becoming a reality in places like Dubai, Abu Dhabi and Doha in the Middle East.
If you would like more information or for one of us to come out to discuss our water management solution please do not hesitate to contact us. Our details are below.