Rainwater Harvesting for Sports Fields with Atlantis Corporation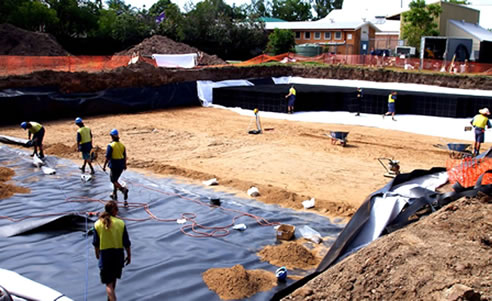 Atlantis Corporation's Matrix® Tanks were installed at an East Brisbane primary school in Brisbane next to the GABBA for the harvesting of water off the roof of the oval's grandstands as well as capturing the water after the sports field is watered. The tank is 1 Megalitre (35,314 cu. ft) in size and will allow the capture and reuse of water for the GABBA and not taking up space in the school's playground.
The Atlantis® Matrix® Tanks were specified by the Queensland Department of Project Services after consultation with Atlantis Water Management's Queensland distributor, John Jensen of East Coast Environmental Solutions.
The tanks will not only capture the rainwater off the roof of the grandstand but will help conserve and capture the water from the watering of the oval. The Atlantis® modular tank system to help the GABBA save water and ensure water is recycled efficiently in an environmentally friendly method while saving money on both materials and installation costs if they had used conventional methods of water capture. The project was installed during a two week period to ensure minimal disruption to the GABBA and the school.
Installation Volume: 1 Megalitre (35,314 cu ft)