Opening Roof System for Outdoor Entertaining from Vergola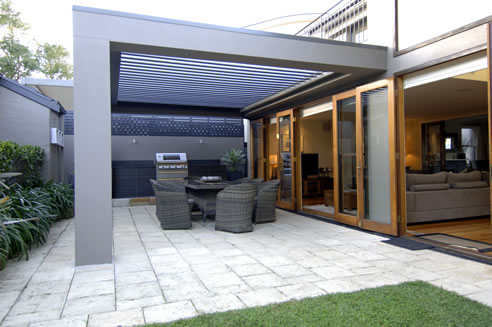 Spring has sprung with Vergola
With spring flowers in bloom, days getting longer and temperatures starting to rise, spring is upon us. And with warmer weather comes outdoor living and entertaining.
With a Vergola opening roof system, you can create the perfect outdoor living space. The unique opening louvre design provides unrivalled versatility, helping to create the perfect environment regardless of the weather - it's like an extra room added on to your home.
A Vergola louvre roof system can be used over decks, patios, courtyards, verandas and swimming pools. Featuring a unique opening louvre design made from double Colourbond steel, the roof system can be adjusted to accommodate almost all types of weather.
When changeable spring weather hits, an automatic rain sensor reacts to the slightest moisture closing the louvres to seal out the rain. The louvres will reopen when the weather improves. Downlights can also be fitted to create the perfect evening environment - ideal for a summer dinner party, alfresco style.
On fine days, the opening louvres can be tilted to allow warm spring sun to penetrate. A Vergola louvre roof system provides unparalleled insulation, keeping your outdoor space cooler in summer but warmer in the cooler months, extending the use of your outdoor area. When the temperatures really heat up, full shade can be achieved under the Vergola, whilst retaining ventilation to keep temperatures down.
All Vergolas are custom-made to suit the requirements of the individual home/area.