Green Production opened by NSW Government Minister from Acoustica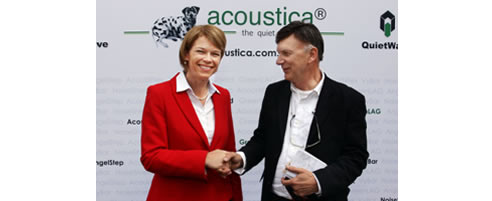 The NSW Minister for Primary Industries and Small Business, the Honourable Katrina Hodgkinson, officially opened the world's first water based viscoelastic acoustic noise barrier production line today at the St Mary's, NSW production plant of Acoustica Pty Ltd.

Acoustica's new green chemical QuietWave® noise barrier heralds a shift away from petrochemical based barriers and in particular what until now has been the industry standard, loaded vinyl barriers which include harmful plasticisers. QuietWave® is the culmination of the adoption by Acoustica of the principles of green chemistry and seven years of Research & Development. Green chemistry, also called sustainable chemistry, is a philosophy of chemical research and engineering that encourages the design of products and processes that minimize the use and generation of hazardous substances. Green chemistry seeks to reduce and prevent pollution at its source. It aims to avoid problems before they happen. Acoustica's QuietWave® biodegradable noise barrier which isolates noise and dampens sound vibration to increase sound transmission loss is now incorporated into Acoustica's range of architectural acoustic products replacing the previous mass loaded PVC barriers in their wall, partition, floor, ceiling and pipe lagging products. Mr Philippe Doneux, Acoustica's founding director, was confident that their change away from petrochemicals including harmful plasticisers to a natural organic barrier is the beginning of a move away from mass loaded PVC and thermoplastic barriers towards environmentally acceptable alternatives such as QuietWave® - Special report: http://www.acoustica.com.au/pdf/Natural-alternative.pdf Mr Doneux added that with their internationally patented QuietWave® acoustic membrane, Acoustica is well placed to benefit from this change and that they were already in licensing and joint venture discussions with international companies.


1300 722 825
Ground Floor, 6A Nelson Street, Annandale, NSW, 2038