Commercial Construction Opportunities from EstimateOne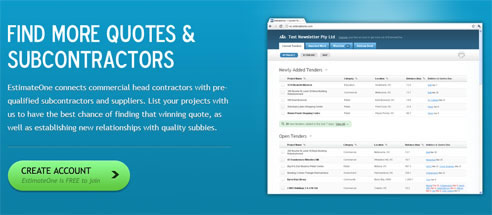 EstimateOne connects commercial head contractors with pre-qualified subcontractors and suppliers. List your projects with us to have the best chance of finding that winning quote, as well as establishing new relationships with quality subbies.
EstimateOne focuses solely on the commercial construction industry. Our aim is to make simple but powerful online services that improve estimating and tendering, and help you win more work. If you would like to speak to us further about our range of products, please get in touch.
1300 705 035
Level 4, 99 Queen Street, Melbourne, Vic, 3000.