Free Building Tender News from Estimate One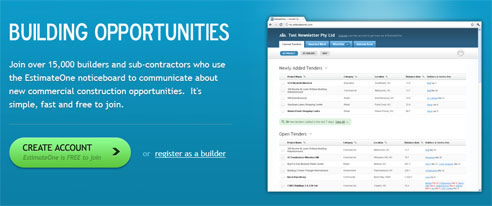 Spec-Net is now providing Free Building Tender News supplied by Estimate One
See the recent Tender News here http://www.spec-net.com.au/tenders.php
Estimate One's information is;
Relevant & focused
Estimate One is solely focused on the commercial construction market.
Accurate & Timely
Builders list job with us directly, ensuring the accuracy of the data.
Simple & Easy To Use
Our interface is simple, clean and extremely easy to learn.
1300 705 035
Level 4, 99 Queen Street, Melbourne, Vic, 3000.