Concrete Footing for Metal Garden Edging from FormBoss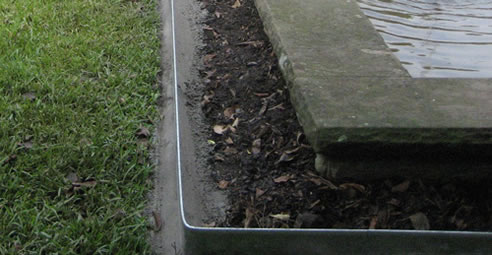 Concrete Footing
When you want the ultimate strength from your FormBoss™ installation, you should consider concrete haunching. Concrete haunching is a quick and easy way to give your edge all the strength you could possibly need. By doing this you're reinforcing the lower part of the edging and giving it a solid base to sit in, which will add to the overall longevity, strength, and make your installation practically vandal proof. Here is a picture from the Sydney Botanical garden showing an example of how continuous concrete haunching can be done.
Using a float to even out the surface of the concrete and to compact it slightly will make for a stronger haunch. This is done in conjunction with the tapered stakes which gives it further anchorage. You can do a continuous haunch for maximum strength, or you can use "blobs" of concrete on the stakes to save a bit of time and material.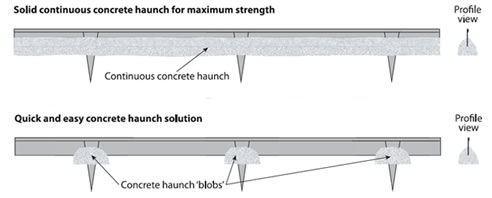 The preparation work involves a bit more digging than usual, as you need about a 100mm wide trench to sit the edging and concrete in. For large commercial jobs consisting of hundreds of meters of edging it can be a great time saver if an excavator or Bobcat can be used to dig the trenches. As a general rule of thumb a wheelbarrow of concrete mix will do about 10m of haunching.