Colourful Garden Edging from FormBoss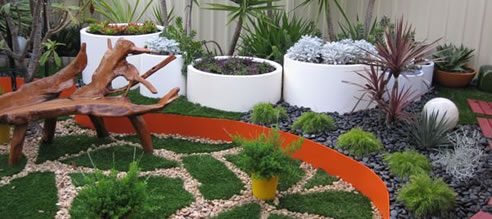 Edging In Any Colour You Desire
We offer three different finishes of the FormBoss™ metal edging system, corten, galvanised, and stainless steel by special demand. If you are after a more unique look for your garden beds and edges you can paint the steel whatever colour you desire!
If you've decided you want a unique colour for your FormBoss™ edges, you'll need to start with galvanised steel. The paint will stick much better than the corten steel, and you have to break the bank to pay for the stainless.
Step 1: You're going to need to shape up all your curves and angles before you start painting. The paint will crack off if you start shaping the steel after painting (unless it's specialized paint, which will generally be quite expensive).
Step 2: Get some methylated spirits and wipe down any surfaces that will be painted with a rag. This will ensure the thin film of grease that preserves the shelf life doesn't disturb your paint job.
Step 3: Wash down the edging with a hose so all of the methylated spirits is removed from the surface. Leave it to dry.
Step 4: Talk to your local paint store to ensure you buy a paint that will be adhesive. You will need to tell them that you're painting hot dip galvanised steel, and that it needs to be durable enough to stand up to outdoor weather. Different paints will vary in their application instructions, be sure to talk to your local specialist about best practices and read all the instructions on the paint before starting.