Low Maintenance Decking Timber Alternative from Futurewood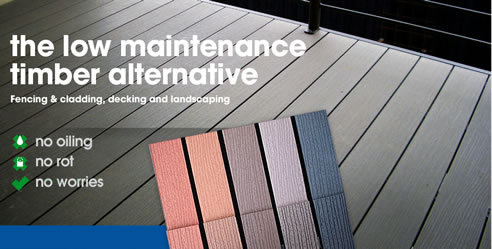 Low maintenance alternative to timber decking
Once upon a time, timber decking was only found on ships. Now every self-respecting landlubber has a deck outside the back door, their first port of call to the great outdoors.
But, inevitably, timber boats gave way to more modern materials, just as timber decking is now making way for more sustainable composite decking, for a whole variety of reasons.
Maintenance is one of the biggies. Timber decking needs lots of it. Oils and stains are a whole self-perpetuating industry and they don't come cheap. Staining a deck is a big job and it needs redoing every two or three years.
With composite decks, none of that's necessary. Futurewood's CleverDeck comes pre-coloured, in Chocolate, Mahogany, Slate Grey, Saltbush or Walnut, and that's pretty much it.
Spillage and stains can generally be taken care of with warm water and everyday detergents or washing powders; it's advisable to do it quickly so they don't soak into the fibres. A light sanding is another way to deal with more serious stains, and you can find more comprehensive advice by following the care and maintenance link.
The initial cost of composite decking is much the same as timber decking, but the savings over time become quite considerable. Check out the cost comparison link to see how they add up.
CleverDeck doesn't rot, warp, crack or splinter. It is highly resistant to weather, moisture and insect attack. And, importantly, it's sustainable. Quite simply, it's easier to keep your deck ship-shape with CleverDeck.