Braille Solutions for Healthcare Sydney from Hillmont Engraved Signs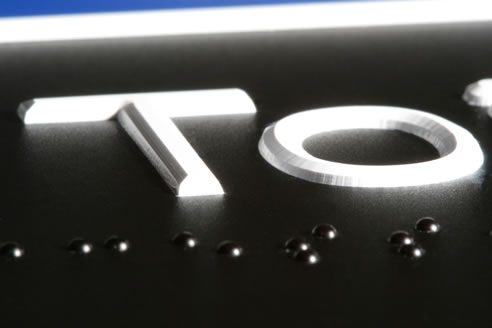 Healthcare organizations routinely provide services to patients with visual and reading impairments.
Legislation states that emergency information signs are required to indicate the location of, or direction to, emergency related facilities such as exits. Problems with our eyes also account for about 1 in 30 hospitalisations (*Internet Source).
Legislation requirements generally must be incorporated into new construction and facilities which are being altered.
Items such as raised character and braille elevator controls are usually required to be installed in existing facilities as they involve little difficulty or expense and are generally considered to be readily achievable.
Hillmont Braille Signs can help in your next Healthcare signage project including Hospitals, Medical Offices and Outpatient Signage. We custom fabricate exam room signs, directories and restroom signs to meet your decor.
We will help you stay in compliance by providing your company with alternative format member materials for patients who are blind or visually impaired.
Hillmont Braille Signs is one of the most successful and innovative manufacturers of Braille in Australia and has been manufacturing and supplying Braille/tactile and general signage solutions for over 15 years from our Northwest Sydney location (now based at Castle Hill).
High profile projects include the award-winning wayfinding system at the University of Sydney, many of the facilities for the Sydney 2000 Olympics as well as the Epping to Chatswood railway and Braille signs inside the new Oscar railway carriages.
You are most welcome to visit our Castle Hill showroom and factory, email us or phone to discuss your needs.
Samples can be provided as well as fast turnaround services for toilet signs http://www.spec-net.com.au/press/0813/hil_070813.htm
Visit http://www.hillmontbraillesigns.com.au/