Architectural Fabrics for Tensioned Structures from Nolan.UDA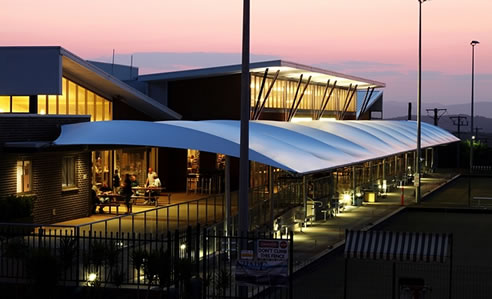 Tensioned structures where the fabric forms the integral part of the support system are often opportunities to express style and creativity through a functional outdoor application. While there are obvious benefits to a visually pleasing structure, it is essential that the material is up to the task in terms of performance.
The performance of a structural fabric is often dependent on the quality of its lacquered finish. The lacquer is designed to protect and insulate the PVC coating from damaging UV radiation and improve cleanability.
Nolan.UDA is proud to present the Naizil range of architectural fabrics, complete with the world leading TITAN W Lacquering. The effectiveness of TITAN W has been proved countless times through both accelerated weathering tests and general exposure to the elements. Key benefits include:
- Sophisticated protection system and physical properties ensure long term performance.
- TITAN W provides state of the art self-cleaning finish to maintain the original appearance.
- Fabrics coated with TITAN W can be welded without any surface preparation.
Contact your local Nolan.UDA branch for more information.