Radcon #7 Waterproofs Coa Valley Museum, Portugal from Radcrete
Radcon Formula #7 Waterproofs
Architectural Masterpiece in Coa Valley, Portugal.
SITE DETAILS
COUNTRY: Portugal
SITE: Coa Valley Museum
ARCHITECT: Camilo Rebelo + Tiago
Pimentel/Sandra Barbosa
APPLICATOR: Coal
ENGINEERS: G.O.P. Gabinete de Organização e Projectos
YEAR: 2009
Vapor Ltd, Radcrete's distributor in Portugal was called on to waterproof the country's newest cultural landmark. No other product could achieve complete waterproofing without compromising the artistic quality of this amazing structure.
Radcon #7 creates a membrane within the top 20mm of the concrete, fills the pores and capillaries with its glass hard gel maintaining a watertight result.
To build the Museum of Art and Archeology in the stunning Coa Valley, many factors had to be considered including topography, accessibility and the environment.
The result is a museum installation within the landscape. The backdrop is the vast landscape of hills and valleys, providing the building with a sense of relationship to the topography. At the highest point of land, this triangular body is wedged between two valleys (Valle de José Esteves and Vale do Forno), with the front facing the confluence of the rivers Douro and Coa.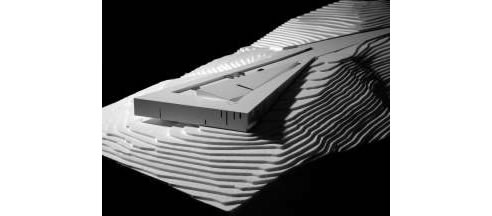 Architects Topography Model