Eco Waterproofing at The Pearl Apartments Kuala Lumpur from Radcrete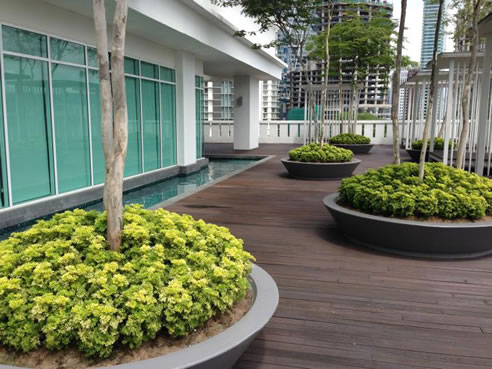 Radcon Formula #7's eco-friendly properties
help "green" The Pearl apartments, Kuala Lumpur
SITE DETAILS
COUNTRY: Malaysia
SITE: The Pearl
TREATED AREAS: Roof, basement, pool, water features, podium deck and planter boxes
SIZE: 21,380 square metres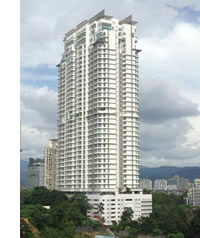 The Developers of this prestigious Malaysian project had lots of "green" areas within the development and were looking for environmentally products to use throughout the project.
Radcon #7 was used on the trafficable podium decks, swimming pools, water features, rooftop and planter boxes. Radcon #7 fills the pores and capillaries of the concrete with a glass hard gel. Water cannot leak through it, plant roots cannot penetrate it and the presence of water regenerates Radcon #7 to seal any future hairline cracking.
Radcon #7 is suitable for potable water and has many certificates around the world to support this including the Singapore Institute of Standards & Industrial Research Standard 245 testing for potable water. It does not emit VOC's and is proven to be non-toxic by its use in aquariums and fish ponds.
Radcon #7 has the prestigious Singapore Green Label approval and has been assessed by Ecospecifier. It can be used to gain "green' credits in environmental assessment programs such as LEED, BREEAM, ESTIDAMA PEARLS and GREEN MARK.
Unlike membranes, Radcon will not have to be removed every 10 or 15 years due to degradation and used as landfill: it remains active in the concrete for life!