Sustainable Vinyl Cladding Duratuff Select from Austech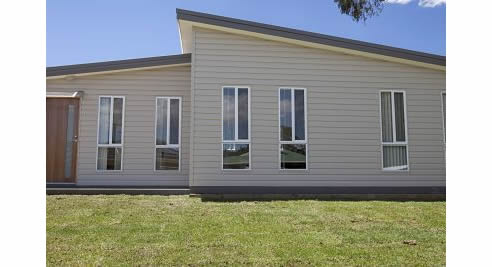 Duratuff Select Vinyl Cladding is Sustainable and Durable
The demand for more environmentally efficient products has significantly increased in recent times. Duratuff Select Vinyl Cladding is engineered to meet these challenges and become a more sustainable material than its competitors. As vinyl cladding contributes significantly less to global warming than other exterior claddings, it also has the potential to earn more points in leading green building certification programs. Austech External Building Products are the nationwide suppliers of Duratuff Select and are committed to supplying eco-friendly products in order to preserve the environment. Recent studies have shown that vinyl cladding outperforms most other exterior claddings in regards to life cycle.
The ability to immediately return scrap and regrind it directly into the manufacturing process results in virtually no manufacturing waste. Compared to the installation of other exterior claddings, vinyl generates very little waste. Duratuff Select installers around Australia implement source reduction techniques to ensure minimal scrap is produced during installation.
Sustainability is not possible without durability, and Duratuff Select Vinyl Cladding is constantly improving through research and development. Expected service life of the product continues to increase, as Austech are able to offer a 50 year warranty. Advancements are also being made in other key areas such as colour retention and impact resistance.
For a durable building to be sustainable, it must be energy efficient. Duratuff Select can contribute to the overall energy efficiency by increasing the R-value by 10-15%. This leads to a decrease in the need for energy consumption, cutting costs and minimising carbon footprint. Economic Performance and long service life are key areas in measuring sustainability. Duratuff Select Vinyl Cladding requires no painting, staining or sealing at installation or ongoing maintenance.
Austech External Building Products are the national distributors of Duratuff Select Vinyl Cladding. With a supply and install service near you, you can contact the team at Austech for further information. You can also learn more about the quality products on offer by Austech on their website.